Agnes Keszeg
is a children's book illustrator, fashion illustrator and puppet crafter, currently also experimenting with being an accessories designer. I met her at a coffee, on one of these lazy summer mornings. The questions I asked her were focused on her work, the beautiful dolls she creates and the reason why she chose to be an illustrator over being a fashion designer.
Illustrations courtesy of Agnes Keszeg.
Illustration from the most recent book,
Feketeleves
by László Noémi, Erdély Híradó Cluj-Napoca and Ráció (Budapest) Publishing Houses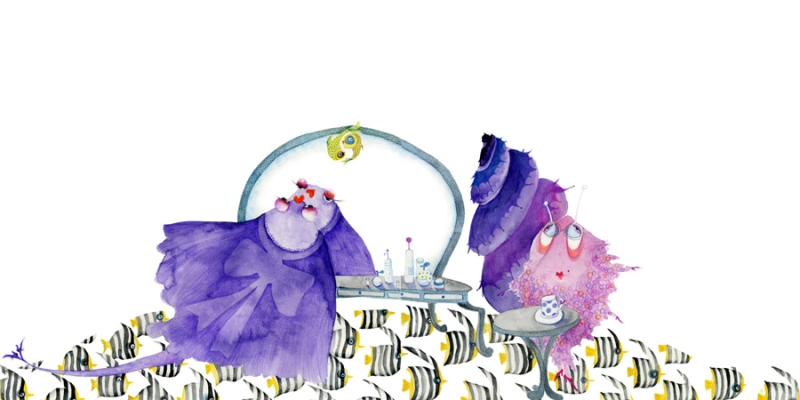 Illustration from
Aventurile unui fir de nisip
by Anamaria Constantin Lembrau, Nemira Publishing House, Bucharest
Illustration from
Ágóbágó naplója
byDemény Péter, published 2009, Koinónia Publishing House, Cluj-Napoca
1. Tell us a few things about you and how people came to know you.
I live in Cluj and I like it, I got married this summer and I am (first and foremost) a children's book illustrator, fashion illustrator and puppet crafter. Also, I would like to be an accessories and jewellery designer, but I am still in an experimental phase. I don't know how famous I really am, but publications have certainly helped me a great deal. Some more time has to pass for the world to learn about my books, my dolls and my fashion illustrations. For some people I am now the"Firul de nisip" illustrator or the doll creator. The majority of the books were published in Hungary; I also have magazine collaborations there, which are a little harder to find here. So I do have a little more work to do.
Above left:
Nok Lapja
magazine, dec. 2009, Budapest.
Above right:
Cartea Printeselor
by Zalán Tibor, 2008, Cerkabella Publishing House, Budapest
Unpublished illustrations, made for ELLE Romania
Above left: Unpublished illustration, made for ELLE Romania
Above right:
Cartea Printeselor
by Zalán Tibor, 2008, Cerkabella Publishing House, Budapest
2. You got a master's degree in clothing design at the University of Art and Design Cluj. Why have you chosen to express yourself through the images and accessories you create?
It was an easy decision to make, because even while still a student, I would rather draw fashion sketches than work on the concept of the clothes and then create them. This is not a good attitude for a designer. After I finished my studies, while working on the master's degree, I also worked for nine months at a factory, as a clothing designer. There I used to draw under the table when I had some spare time. It was during this period that two of the volumes I illustrated were published and I started to collaborate with magazines. The thesis for my master's degree was an illustrated fashion dictionary and not a clothing collection. At the end of the second year of the master's degree I could afford to resign from my position at the factory and start working as a freelancer. I already had enough orders to be able to support myself financially. The fact that I graduated from a clothing design programme sets me apart from other illustrators. I am much more attentive to the small details than a graphic artists, for example.
I started handcrafting accessories a little later. Alongside the dolls, they enable me to live my passion for fashion. I am very patient when it comes to miniatures and I realised that I can't express myself on big surfaces, I get lost in the details.
3. Where does your passion for illustrations and stories come from?
I remember watching an interview with Walt Disney on TV when I was younger, in which he was said that he used up thousands of colored pencils to draw 101 Dalmatians. I wished to do so myself, but back then I had no idea a job like that ever existed.
When it comes to illustrating stories, I like to be able to take an existing text and work with it in a personal, creative way. I never worked with theme of my own, without a preset one. I prefer stories because they give me the possibility of introducing many details so that my own story is embedded in the drawings I make. I also worked with publishing houses and writers which gave me full creative freedom - I was never restricted in any way.
4. Who is your target market, how would you describe the woman who appreiciates and purchases your creations?
I am starting to notice that whoever buys one of my drawings will also be the owner of one of my dolls or the other way around, and this is a good sign. But I think I will be able to answer this question better a little later.
5. The drawings and dolls you make have a specific charm. What are the basic traits of your characters?
I have been drawing intensely for some years and I am trying to obtain drawings which are as delicate and transparent as possible. That is why I hope that my characters become more delicate and polished with time. I don't like to overdo the colours, moves or special effects, but when it's appropriate I will insert a joke, an idea in my works. The dolls are therefore three dimensional versions of my drawings. I design them in such a way that the head is made out of wood onto which I can paint their faces, thus achieving the same effect as on paper. But I do like to create characters as feminine and delicate as possible.
Meet some of the dolls: Yvone, Elsa, Pauline
6. Have there been any projects focused solely on clothing design? Do you plan on making clothing collections some time in the future?
I have only made one individual collection, the one for the bachelor's degree. Back then it was a well received collection, but while making it I came across a number of obstacles, so I didn't pursue in that direction. The phase that I enjoyed the most was the one dedicated to research and conceptual thinking. Even if I would be tempted to begin creating a collection again for these reasons, I would say no to the idea due to the difficulty of manufacturing the clothes.
7. Which designers do you work with? We know for example that you created accessories for Tatiana Strambovschi's collection at Romanian Fashion Week this year. Are there any similar projects under way?
It was the first collaboration of this type, and Tatiana is also a good friend of mine. I knew her research, her sketches, the materials, any detail about the collection. Right now I'm not involved in any similar work, but there are discussions about future accessories for other designers as well.
Where you can find Agnes:
www.keszegagnes.com
www.keszegagnes.blogspot.com
http://www.molecule-f.com